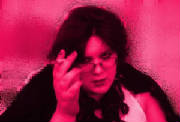 Model:SPFoxx / Photo: RedPandaProd.
THE BLYNDE I/EYE Issue #4.
The most recent issue. Hand stitched cover/A more radical formal: a complete step away from the regular DTP (desktop publishing style) that you see so often in zines today. Very Anarchisty. Only a limited edition of 100 will be made. For the cover alone, it's worth it. Both color and black/white pages.
PRICE: $4.00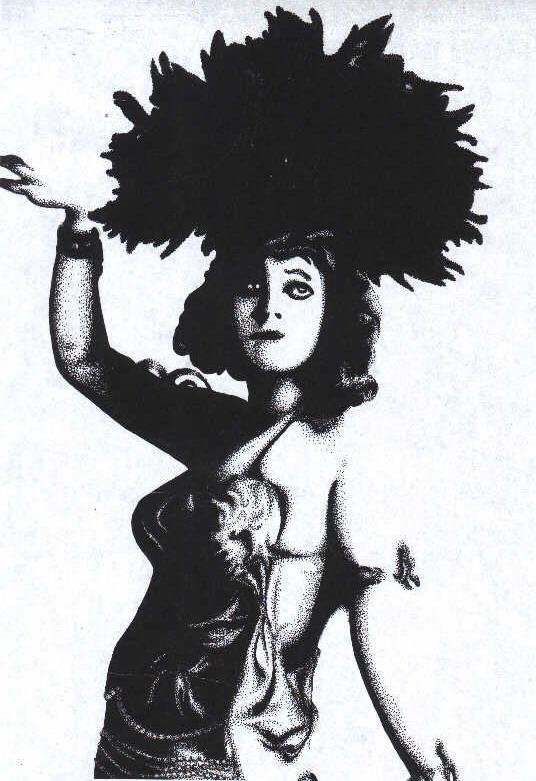 Artwork by Doc.T.Lizardo/Pointellist
TBE Issue #3
Art Noire Issue
This was a FABULOUS issue that dealt with silent movie actresses and silent films along with the whole 1920's retro look. A fabulous hand designed cover created by Mike T. Lizardo/Pontellism style of a flapper. Reviews of 1920's redo films such as 'Chicago' and 'The Cat's Meow'. Information on silent movie houses that still survive today. All in all, a good catch if you are into nostalgia of the silver screen. 81/2 by 11 spiral bound.
PRICE: $4.00 this includes postage and a bag of stickers.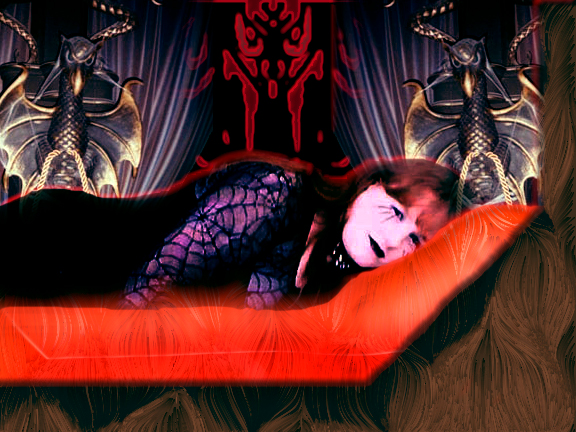 pix by red panda prod, rendring by Raven T.
TBE # 2
This issue was a DOOZIE ! Discussing the lost teddy bear of Turin, as well as everything else that could be thrown on the printer and put to paper. Everything from bad hair dying techniques to phone sex.Was reviewed by
Chateau Bizarre
in a good light.
PRICE: $4.00 includes postage and FREE showercap ! ! !
TBE : The Blynde Eye (I) # 1
This was the one that was created when we did the V.A.M.P./TBE Crossover. Not that we don't like vampires...but we have other venues besides the unliving. Approx 25 pages. Spiral bound plastic combing. Color and black and white.
Price: $4.00 includes postage
Comes with free bag of evil cat stickers
Artwork Created by: DrnknStuupr
MERINGUE ANVIL #1
The first issue of Meringue Anvil (As in as blunt as a) came out at the beginning of April 2004. We are more than happy to be offering them here to distribute.
ISSUE ONE has a hot pink cover, b/w, and 29 1/2 pages. Standard underground zine style. Has a LOT to offer. Predominantly a woman's zine but has a twisted sense of humor and style.
PRICE: $1.00 plus 60 cents S&H